When it comes to affordable makeup items in drugstores, the eyes have it. There are countless items I love and today we will highlight a few basics anyone can use in their personal makeup stash.
Wet n Wild Eyeshadow Collection – These 8 well eyeshadow palettes are wicked affordable, pretty densely pigmented ( though a bit powdery so tap the excess off your brushes) and at a super affordable average of $4.99 – that's about 63 cents per color. Yeah. 63 cents…  Mainly shimmers and sheens, these aren't ideal for the over 30 crowd but the fun colors and easy blendability makes them ideal for teens and twenty-somethings. So pull back the couch cushions, grab some spare change and get to your closest drugstore and grab one – or a few;)  CVS has them on sale on their website for only $3.99 as of today;) Better hurry though. I have no idea how long that sale will last – or the stock;)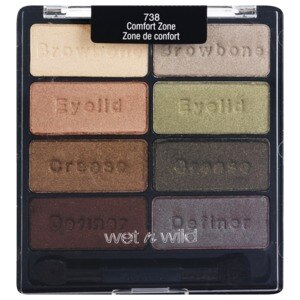 NYX Eyeshadows – (Varying Palettes) – These are economical but also come in plenty of neutrals which is something many of us wear on an everyday basis. Some have sheen but there are more mattes to be found than in most economical brands and the color payoff isn't bad – but I do suggest a quality eye primer for ideal results. Costs vary from $2.49 for a single to $14.99 for a 24 color palette. ULTA has regular buy 1, get 1 at 50% off sales ( including one going on right now on the website) so check them out in store or online.
NYX Slide on Eye Pencil – Goes on like velvet with no tugging or eye stretching needed. Sets to a long lasting water resistant finish. Great color payoff and selection and especially wonderful when you get them on sale. My personal faves are the metallic shades ( gold, silver, olive, golden bronze and jewel) since they are hard to find in other brands but the classic black, brown, and navy are equally as fantastic. $7.99 and I stock up when they are on sale for buy 1, get one at 50% off – like they are at ULTA right now;)
RIMMEL ScandalEyes Eye Liner – Another affordable, pigmented, long lasting, creamy but water resistant pencil. I remember when they only had 3 colors and now they have at least 10. Color or neutral these are my go-to pencils for everyday beauty and classic beauty looks that last. The nude pencil is great inside the waterline to diffuse redness and make eyes look less tired. The silver is great in the inner V ( tear duct area) to brighten for a night on the town and the blues are perfect for a soft, subtle color on weekends. The darks are amazing for creating long lasting sultry smokey eye looks;) Why spend more if you don't have to? These easily out perform my expensive liners from MAC, Smashbox and Lise Watier. At $4.49 you just can't go wrong on this STEAL. Try the eyeshadow crayons too. They make a great base under shadows or all by themselves;)
Maybelline Full And Soft Mascara – My all time favorite mascara because it does exactly what is says – makes lashes full and soft. No crunchy spider lashes here. A full wand coats lashes evenly and keeps them looking and feeling soft. Available in several shades (brown too for light haired girls) and in a waterproof version. Something I ALWAYS use personally, keep in my kit and recommend to everyone. Priced at $7.49 at ULTA and on sale now for buy one, get one 50% off – Gotta love that deal!
Loreal Voluminous Volume Building Mascara – At an average price of $7.99 this is a bargain for the quality. I don't care what anyone says – I have personally used very expensive mascaras and have not found one that compares to the average priced brands out there. In fact, some of my biggest makeup disappointments have been overpriced, poor quality mascaras with popular brand names. This mascara is proof positive that name brands mean nothing when it comes to quality. Long lasting, effective and available in a fantastic waterproof formula and one with a curved brush – this is a favorite of mine and many of my brides. Try "Carbon Black" for the highest impact on nights out;)
These are not only affordable but great quality products I enjoy, use and recommend to everyone. I always suggest buying them on sale (many stores offer buy 1, get 1 or 50% off deals every few weeks) so grab a friend and share the savings, stock up yourself or make them stocking stuffers for ladies you love;)
More affordable product recommendations coming soon so stay tuned and thanks for stopping by!